With wide areas to cover, often over long distances and with challenging terrains, a flexible, high performing, cost-effective solution is essential to cope with the transport industry's complex communications challenges.
Choose the Aprisa XE
Long range support, ideal where infrastructure is distributed over a wide area, and for connecting rural or remote environments
Unbeatable reliability, overcoming the problems of terrains and adverse weather conditions
Easy installation and maintenance, minimising the management overhead for networks distributed over a large area
Read our customer case studies to see how customers are using Aprisa to solve their connectivity challenges.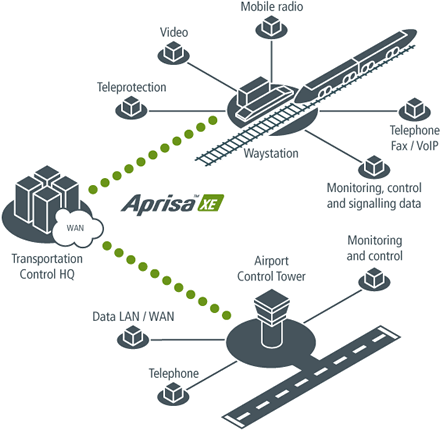 What makes Aprisa the ideal choice for transport companies?
The Aprisa XE supports all types of voice, data and IP-based traffic for transport operators, including telephony, teleprotection, PBX, mobile radio, video and LAN. From basic telephony and Internet access through to signalling and control data and backhauling private radio networks, the Aprisa XE is used throughout the transport network. Significantly outperforming satellite links, fixed infrastructure and higher microwave links, the Aprisa XE provides transport operators with independence from third party telecoms operators.
Interested in more documents like this? Go to the 4RF library.