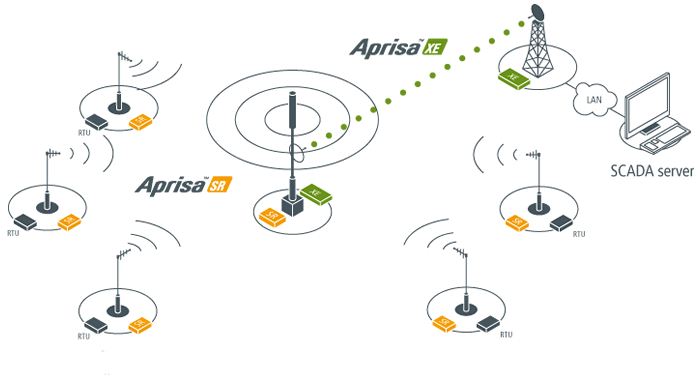 Choose the Aprisa SR
Choose the Aprisa XE

Monitor performance parameters from multiple remote sites / RTUs
Support all your serial and IP / Ethernet SCADA traffic requirements
Advanced GUI for each configuration and management
Flexible topology: each unit can be base station, repeater or remote unit
Suitable for all SCADA applications across pump jacks, refineries and pipelines

Flexible range of legacy and IP interfaces
Rugged enclosures for use even in harsh environments of remote oil and gas fields
Long range, suitable for even over the horizon offshore connectivity
Carrier-class performance for those mission-critical communications
What makes Aprisa the ideal choice for oil, gas and mining companies?
Aprisa SR
The Aprisa SR is the smart SCADA radio that makes your SCADA network future-proof, particularly important today as the SCADA world becomes more complex, with growing security concerns and regulatory requirements. Incorporating comprehensive multi-layered security and based upon industry standards, the Aprisa SR supports all your serial, IP and Ethernet RTUs and provides unbeatable network efficiency and performance.
The Aprisa SR integrates seamlessly with the Aprisa XE point-to-point radio, enabling you to wirelessly backhaul traffic from multiple Aprisa SR SCADA radios at a remote or offshore site back to central control. The Aprisa XE is also ideal for multiple types of upstream and downstream communications and monitoring applications, including remote surveillance and security and e-mail and voice.
Aprisa XE
The Aprisa XE is often used as a cost-effective, low latency, alternative to satellite links. It provides oil and gas companies with high performing, reliable communications despite the challenges of large metallic structures many miles offshore, often over the horizon, with the need for constant connectivity despite highly variable atmospheric conditions.
Aprisa XE Technical Paper - Teleprotection and Telemetry
English
Download
| 231.91 k (
.pdf
)
Interested in more documents like this? Go to the 4RF library.