This makes it impossible to extend profitable always-on network coverage to remote businesses, low density and suburban environments. For telecoms operators to be able to serve these communities, a flexible, high performing multi-service platform is a must, to cost-effectively backhaul traffic from rural sites.
Choose the Aprisa XE
High capacity, enabling a complete rural community to be served with broadband services with a single, cost effective wireless
Long range, despite difficult terrain and adverse weather conditions
Carrier-class performance means you can extend QoS guarantees to even the most remote customers
Read our customer case studies to see how customers are using Aprisa to solve their connectivity challenges.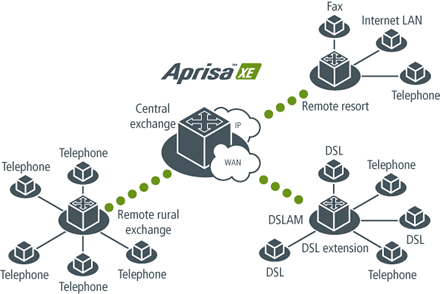 What makes Aprisa the ideal choice for fixed line telecoms?
With its flexible range of voice, data and IP interfaces, the Aprisa XE supports whatever combination of basic PSTN telephony, DSL extension and high-speed Internet connectivity is needed. It is often used to bypass existing infrastructure or replace expensive satellite links, enabling operators to quickly expand network coverage.
Aprisa XE Technical Paper - E1 CAS to DFXS
English
Download
| 225.84 k (
.pdf
)
Interested in more documents like this? Go to the 4RF library.